1926-2015
Marjorie Elliott Sypher was born in Ottawa, Canada in 1926. Her parents were Gideon Colin Fraser Elliott Smith and Mary Marjorie Sypher.
Gideon Elliott, a civil engineer and lawyer, served in some of Canada's highest political and diplomatic roles and was appointed Royal Advisor. His wife had been a teacher in Manitoba and graduated with a Bachelor's in Music and Singing from the Conservatory of the University of Toronto. Marjorie had a very happy childhood with her parents and her brother Roy Fraser Elliott, a prominent Canadian lawyer and industrialist. The Elliott Sypher family lived in Ottawa and owned a country house on the banks of the Gatineau River in the province of Quebec.
In 1947, Marjorie met Daniel Oduber in Montreal, where he was studying philosophy after getting his law degree in the University of Costa Rica. His academic achievements impressed Marjorie, particularly in the field of philosophy, where he greatly surpassed those of his Canadian peers.
They met again in Paris, where Daniel held a diplomatic post and was studying to obtain his Doctorate in Philosophy from Sorbonne University.
Since their first encounter, Daniel and Marjorie shared their deep intellectual concerns. During their dating period and throughout their marriage, reading was one of the activities that most united them. They tried to keep abreast of the current events in philosophy, politics, sociology, the arts, and culture in general.
Marjorie and Daniel were married in the Canadian Embassy in Paris on 13 May 1950. Marjorie was twenty-three years old and Daniel was twenty-eight. A few years later, they got married according to the Catholic Church in Coronado, and Archbishop Benjamín Núñez blessed their union.
The newlyweds spent their honeymoon in Fornells, in the Spanish province of Girona. From 1953 to 1955, Daniel was the Special Ambassador of Costa Rica in Europe, with residence in Paris. In 1958, they returned to Costa Rica, and Daniel was elected Congressman from 1958 to 1962. Marjorie joined the Costa Rican political network from an early date and already in 1958, she presented a project to Congress, which developed into the National Commission for Education Loans (CONAPE).
Marjorie also became interested in cooperativism and played a role in the organization of onion producers in Santa Ana and San Antonio de Belén. She also contributed to the founding of the Cooperativa Agrícola (COOPAGRIMAR) in Zarcero. In 1965, she was part of the commission that drafted the Cooperative Associations Bill, which passed in 1968. During Daniel's second term as representative, Marjorie actively participated in various welfare projects. One of her most significant tasks was to collaborate with agricultural diversification initiatives in the districts of Acosta and Mora through the Jorco Cooperative for coffee farmers. Finally, she collaborated with the constitution of the Institute for the Development of Cooperatives (INFOCOOP), which became a law in 1973.
Daniel became Minister of Foreign Relations from 1962 to 1964, and President of the Republic from 1974 until 1978. As the First Lady of Costa Rica, Marjorie's first effort was to get a grand piano for the composer Benjamín Gutiérrez, who in turn donated it to the School of Musical Arts in the University of Costa Rica.
During the Oduber administration, Marjorie promoted the formation of agricultural, industrial and school cooperatives. Among the places that benefited from her efforts in this field were Tucurrique, San Carlos and Arenal.
Perhaps her main and most fruitful activity as First Lady, to which she dedicated countless hours, was the development of a Rural Libraries Program, which was created with the support of the Association of Diplomatic Ladies. For the execution of the Program, large quantities of books suitable for children were purchased – hardcover editions, large print and with colorful illustrations – and they were distributed to rural schools, along with brightly colored shelves and soccer balls. The State contributed resources to the Program, but to raise additional funds, Marjorie and her collaborators held fairs, exhibitions, and other activities. Throughout Daniel's administration, Marjorie visited around 1,300 schools in the most remote areas of the country and handed a library to each one of them. In these tours, she used the most varied means of transport since there were places that she had to reach on horseback, by plane, by helicopter and even by raft. The last of these visits was made on May 7, 1978, on the last eve the presidential term.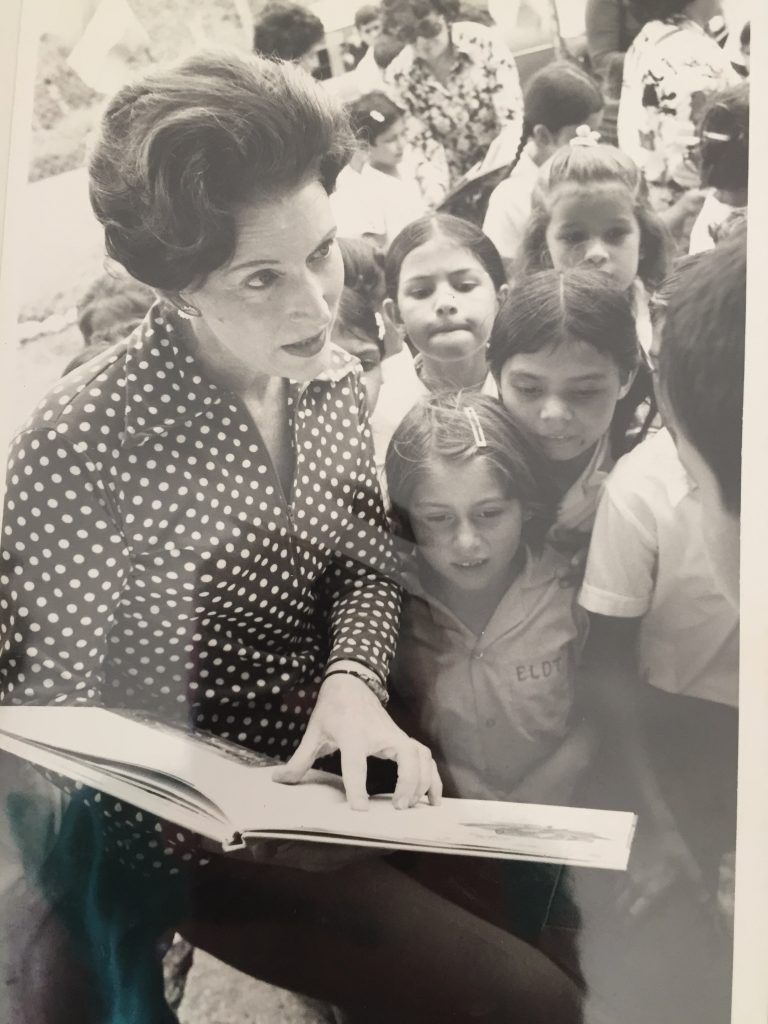 Her interest in nature led her to participate in different conservation initiatives, among them the preparation of the project that gave rise in 1977 to the Reforestation Law. The famous ornithologist, Alexander Skutch, dedicated his book "Birds of Costa Rica" to her.
As First Lady, she also had to fulfill protocol duties and attend distinguished guests. Especially relevant was the visit of Their Majesties the Kings of Spain, Juan Carlos I and Sofía, in September 1977. The Spanish sovereign granted Marjorie the Royal Order of Isabella the Catholic.
After the Oduber presidential term, Marjorie continued working in library programs for secondary schools and, with personal funds, donated numerous books to libraries. Together with her children, she also created a program to promote classical music in the National Library.
She shared with Don Daniel his interest in archeology and together they formed an important collection, which in 1987 they donated to the National Museum along with funding for the corresponding exhibit area. Marjorie also had a great interest in plants and flowers, especially orchids.
After Daniel's passing in 1991, Marjorie remained in Costa Rica and dedicated her time to her children Luis Adrian and Anna Maria, collaborating with the press on different topics of interest, and developing a project, with became the National Museum of the Province of Guanacaste, where she became an honorary citizen.
Marjorie passed away peacefully in her home in San José on 16 April 2015. She will always be admired and respected by the Costa Rican citizens, and remembered as a discreet, intelligent and cultured First Lady.