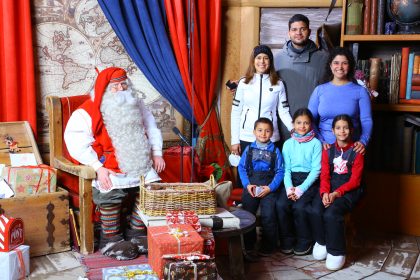 Seeing the Aurora Borealis was always on the top of my bucket list. Our family had been planning to visit Lapland in Finland for a few years now, and finally decided to make our winter dream vacation come true with some help from Avila Reizen Tours, and with our friend Marcela, who flew from Costa Rica to share this experience with us. Besides all the natural attractions that beckoned us to Scandinavia, there were added benefits: we could meet our high school friend Soila, who we hadn't see in 27 years!, we were able to use our Euros, we didn't need any additional COVID requirements, and the electricity outlets were the same as in the Netherlands so no new adapters.
Our vacation started in Rovaniemi. We stayed the first four nights at the Ounsvaara Chalets, on the Kemijoki River and just a 10-minute drive from the city center. The Chalets were rustic, with two bunk beds and one double bedroom on top, a small kitchenette, a TV room, and a small bathroom and sauna, which was a pleasant surprise. We had a nice guide: Inga. Although we had several tours planned, we most looked forward to seeing the Aurora Borealis, which could not be scheduled, and we would have to look out for every night. We learned that these northern lights are a phenomenon created when disturbances occur within the magnetic field, and electrons and protons ionize the atmosphere. They are always present but cannot always be seen because of clouds; so seeing them was part luck and part staying awake during clear nights. There are also myths and legends about them being caused by the spirits of our ancestors or by gods.
On our first tour, we visited a reindeer herders Lapp hut. They had small sleds to slide down a hill, which the children thought was a great way to begin. Then we were allowed to feed some lichen to the deer, and learned some facts about them, for example that males lose their antlers earlier and females keep theirs to protect their young. Also, their life expectancy is about 15 years, there is an overpopulation of deer in Lapland, and locals used to measure their wealth by the number of deer they owned. Next, we were allowed to guide a reindeer-pulled sled and received a "driving license". Lastly, we had a nice lunch which included mashed potato with sliced sautéed reindeer meat, lingonberries and pickles, and some warm blueberry juice.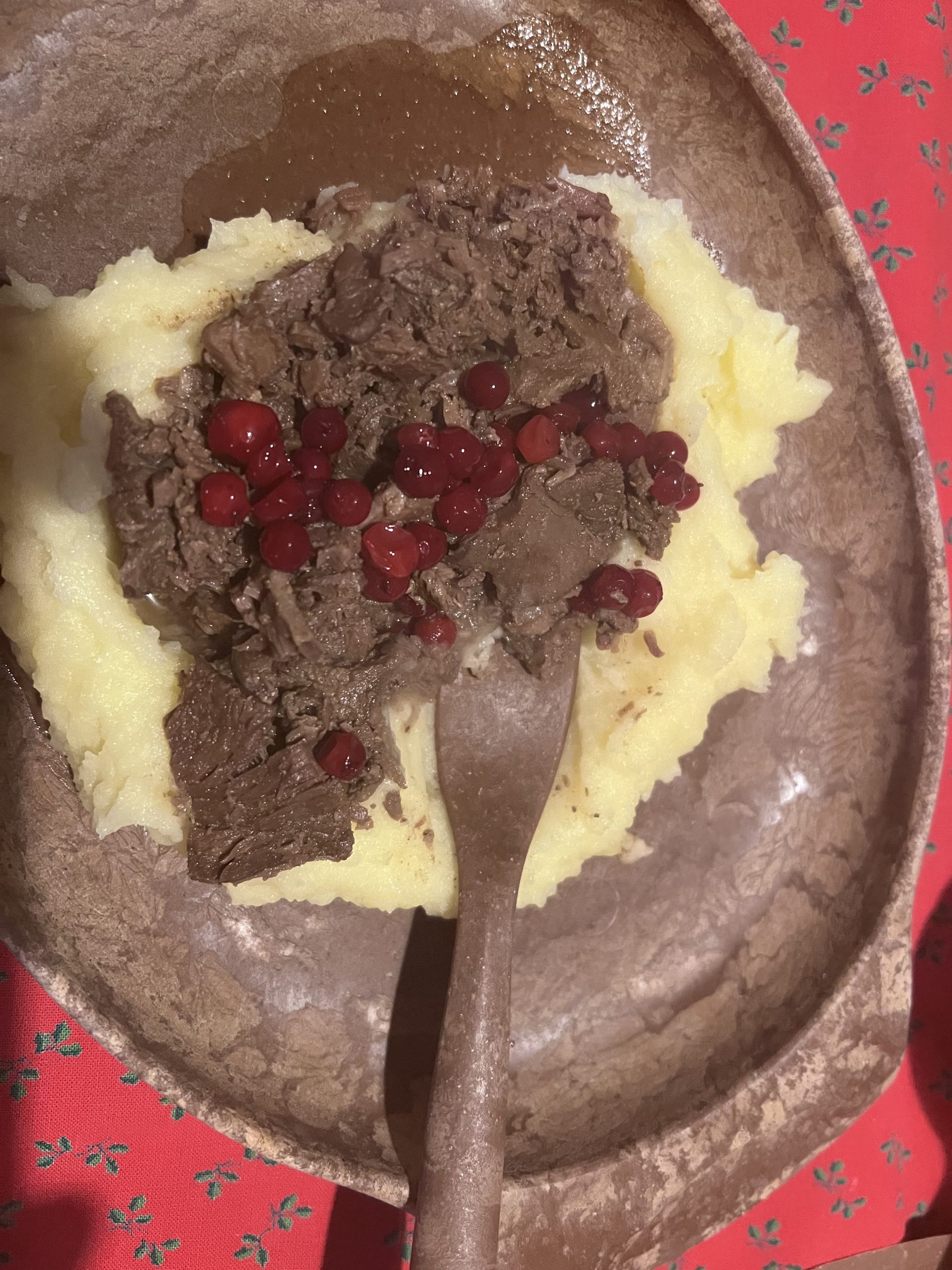 That evening was cloudy, but Inga told us she had a feeling we would get lucky and see some lights. After 8:30pm down by the river, we faced the North and spotted our first Auroras. At first, they were quite difficult to find but the iPhone camera picks them up and the green mist is even more stunning in photos. Standing in the subzero cold was definitely worth it for this once in a lifetime experience.
The following day, we crossed the Arctic Circle and visited Santa Claus Village, where we sent some post cards from the official Post Office, the kids met Santa, and had a second opportunity to ride a reindeer sleigh. We had lunch in a fabulous hut which served the best salmon we had ever tried and a delicious cheese melt with cloudberry jelly.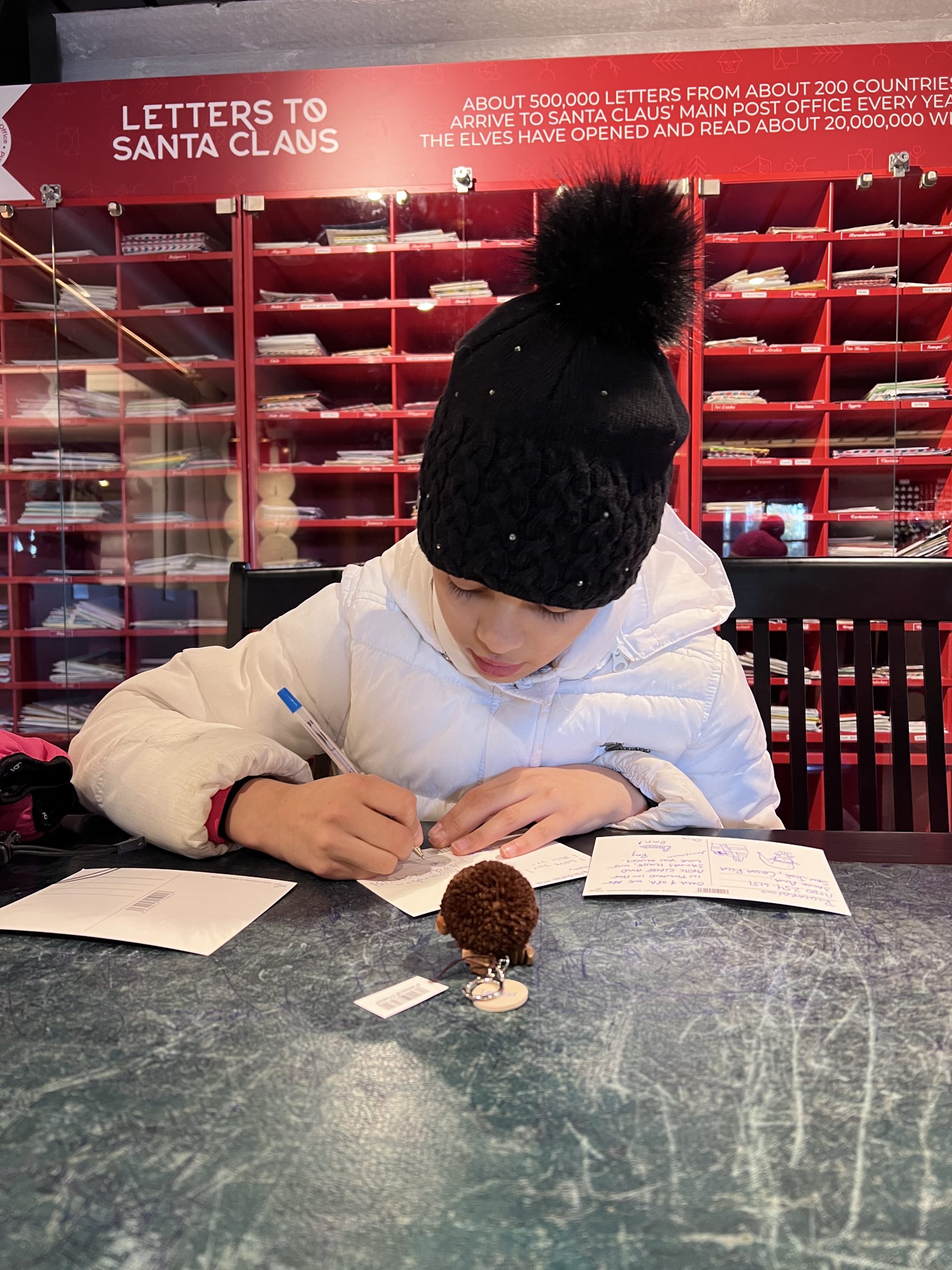 The dinner at the hotel was quite pricey and we wanted to venture out into town and tried three restaurants highly recommended by locals: Gustav, which was wonderful and offered a variety of small plates for sharing; Arctic, decorated with great art and serving delicious fish dishes; and Nili, which was more typical and introduced us to the long drink, a new favorite, and bear stew, which was a little too gamey for us.
Our last day in Rovaniemi, we drove about an hour to Ranua Wildlife Park, which is the second biggest zoo in the Nordic countries. We enjoyed a cold but sunny walk and saw many animals in their natural conditions. We were particularly impressed by the owls, the meerkats, otters, which are Dani's favorite animal. Unfortunately, we were not able to see the black bear, the national animal, because they were still in hibernation. The zoo had a nice coffee shop outside, a wine store and Fazer candy factory store.
On Saturday, we were driven 260km north to Saariselka, in a quite snowy ride. We arrived at the Northern Lights Village, on Urho Kekkonen National Park, with charming cabins set up with glass ceilings, my dream come true. There was no tv but no need for one when we could look up at the stars at night. During our stay, we experienced a midnight tour in search for the Aurora Borealis, but we weren't lucky with the cloudy skies. However, we had a wonderful bonfire in a teepee by the lake and the children enjoyed roasting marshmallows.
The next day, we went on a husky safari, which might've been my children's favorite experience. We each took one child with us and enjoyed the ride. At the end of the tour, we were allowed to pet the husky puppies and talked to their farmers about their life. This was another cloudy night, but since it was our last, we peeked out often hoping for luck. At 3 am, we got our final, glowing experience of northern lights from our beds.
Our last tour in Lapland was on snowmobiles, which were quite large and stable, and the kids came with us on an attached covered sledge pulled by our guide. The tour was two hours long and we were freezing by the end, but the sights were stunning and could have been taken from a fairy tale.
In the afternoon, we flew to Helsinki from the small local Airport of Ivalo.
In Helsinki, we stayed in Radisson Blu Aleksanteri, a quick walk from the Design Center, where we visited three famous shops: Marimekko, Iitala and Aariko. We saw our friend Soila from high school, whom we hadn't seen in 27 years, and met her family for pizza in the Italian Restaurant Bacco. We also visited the National Museum of Finland and the Cathedral, where a group of women were setting up red shoes display on Women's National Day.